And Now... Bison!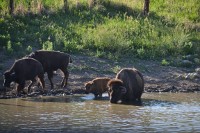 This is a small watering hole on the side of the road.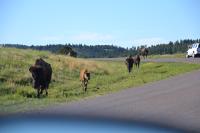 A section of the herd is walking to the watering hole.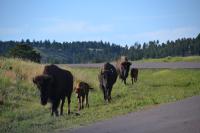 Another section of the herd is walking to the watering hole.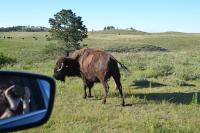 This one walked by on the opposite side of the car. We almost missed it.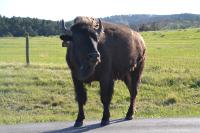 As different parts of the herd were walking by, this one stopped just outside of our car. He seemed to be guarding the group. Let's just say he gave me a look.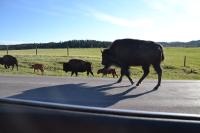 Fortunately, the guard decided not to attack me. He walked on when the group went by.

This is the herd. As you can see, it's quite large.
You cannot go out west without looking at bison. The wife asked me if I wanted to see some bisons while we were around Mt Rushmore. Of course, I said yes. We drove up to Custer State Park, not only to see the prairie dogs, but also some antelope. As we drove in, the park employee at the gate told us that there was a large herd on the northern side of the park. We finally caught up with them around the small airport inside of the park.
Also, it's another opportunity to create a panorama It seems that bison are doing well in the area. I hope they continue to do so.